6 Holiday Gin
Cocktail Recipes
to STIR your HOLIDAYS
with WONDER
There are no secrets to superb festive gin cocktails - just simple, unfeasibly delicious recipes. These are peculiarly perfect for hosting at home or enjoying out and about in festive frivolity with friends. Once tasted, you will long for these winter cocktails each year.
GIFTING
HENDRICK'S GIN
will save the FESTIVE HOLIDAYS,
here's 10 REASONS WHY
Let's cut to the chase – choosing presents is time-consuming and emotionally fraught, but fortunately we have an elegant and simple solution: The majority of your most respected loved ones appreciate HENDRICK'S GIN, so simply source them bottles of our marvellous gin. Miraculously, it is also the centrepiece spirit for winter gin­­ cocktails, so source some to lavish upon your lucky guests, solving another hosting puzzle. That was curiously easy, wasn't it? Use the time you have saved for more enjoyable activities like placing a ship in a bottle or painting pictures of hummingbirds.
If you are still stubbornly unconvinced (and we find that notion barely believable) here are 10 reasons Hendrick's Gin gifts will save the festive holidays.
A present of HENDRICK'S GIN will lead to absurdly delicious festive cocktails.
More than 23%* of people who receive HENDRICK'S as a gift will offer some to the giver of the gift.
Gin is the most versatile of festive gifts, so can be matched to a cocktail to suit most guests, this is worth considering when mulling over winter party ideas.
It is a decadent gift for those on a gluten-free diet (unlike much of the festive menu).
A gift of HENDRICK'S GIN can be drunk without the aid of an app, or ANY electronic device and it will never require a software update.
No one who has received the gift of HENDRICK'S GIN cocktail has ever been attacked by a festive vampire, zombie or other supernatural beast (as far as current records show).
… or flying manatees.
…or talking cucumbers, giving these lucky friends time to employ our gorgeous gin as a perfect base for hot seasonal cocktails.
Speaking of cucumbers, the gift of HENDRICK'S GIN goes so well with cucumber garnishes to ensure cucumbers do not have a lonely festive season.
If spilled, the gift of HENDRICK'S GIN will not stain a white novelty jumper or special occasion dress.
Like a list of 10 with 11 entries, the giver of HENDRICK'S is generous, attentive and pleasingly unconventional.
*This number was made up for the sake of convenience – speaking of making things up conveniently have a look at our staggeringly seductive menu of cocktail recipes here.
WHAT is the BEST WAY to
DRINK GIN this HOLIDAY SEASON?
Gin can be enjoyed in many ways, but what is the best way to drink gin this holiday season? We recommend mixing one of our festive cocktails to get into the spirit, from a classic gin and tonic to a sophisticated French 75.
WHY IS
HENDRICK'S GIN
So alluring
Gin has soared in popularity in recent years, mostly thanks to its versatility. It's a particularly popular holiday drink as it can be added to a variety of cocktails due to its adaptable flavour. It can also take on different strengths and flavours, depending on how it's distilled and processed.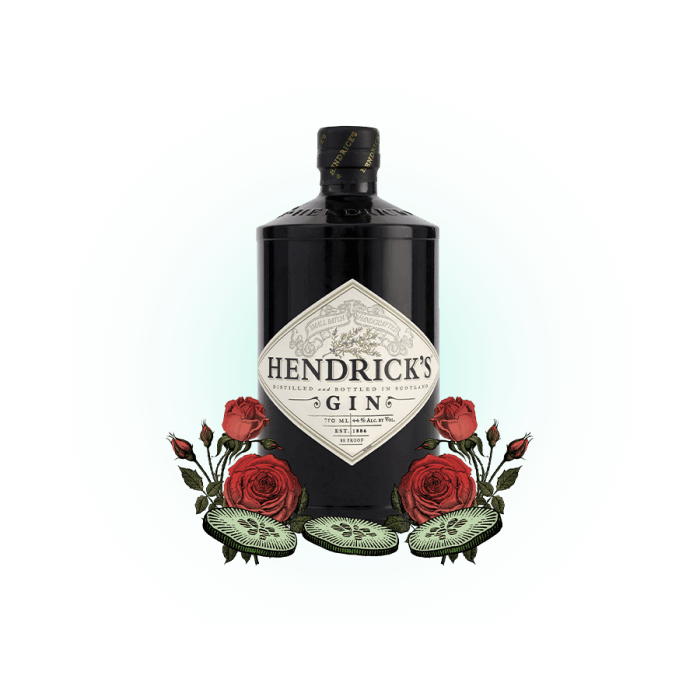 Hendrick's Original
The original Hendrick's Gin, oddly infused with Rose and Cucumber.
HENDRICK'S is an unusual gin created from eleven fine botanicals. The curious, yet marvelous, infusions of rose & cucumber imbue our spirit with its uniquely balanced flavour resulting in an impeccably smooth and distinct gin.
My Goodness!


There are a tantalising array of stunningly delicious

HENDRICK'S GIN

varieties view collection