HENDRICK'S GIN BUCK
Recette cocktail
Le Hendrick's Gin Buck séduit tous les palais avec des saveurs éblouissantes de gingembre, de citron, de bitter Angostura et de GIN HENDRICK'S.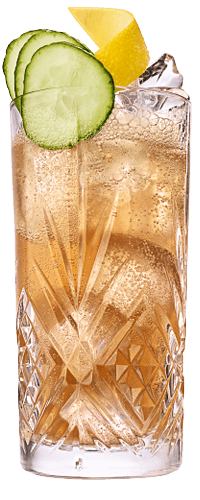 LA RECETTE
Combiner tous les ingrédients dans un verre haut rempli de glaçons.
Remuer légèrement.
Garnir avec 3 fines rondelles de concombre. Servir.
LES INGRÉDIENTS
5 cl de gin HENDRICK'S
1 parts HENDRICK'S
1.5 cl de jus de citron
1/4 parts jus de citron
2 traits d'Angostura® bitters
2 Dashes of d'Angostura® bitters
Compléter avec de la Ginger Ale
3 parts Ginger Ale
3 rondelles de concombre finement coupées
3 Thinly sliced rounds of concombre finement coupées
OÙ ACHETER LE GIN HENDRICK'S ?
Comme les curieuses, mais merveilleuses infusions de rose et de concombre, Hendrick's Gin est délicieusement équilibré. Assurez-vous de trouver le point de vente le plus proche de chez vous :