Hendrick's Gin Cranberry Fizz cocktail
CRANBERRY FIZZ
Looking for a wondrous winter gin cocktail for your next splendid soiree? Look no further! HENDRICK'S makes holiday hosting delectable with our festive Cranberry Fizz, a delightful concoction of cranberry, bubbles, and (our personal favorite) HENDRICK'S. The Cranberry Fizz is a festive gin cocktail recipe that makes one long for December all year round.
Garnishes
Cucumber/Mint/Cranberries
Ingredients
1 part HENDRICK'S GIN
2 parts Cranberry Juice
1 part Sparkling Wine
Cucumber Slices, Mint sprig & Cranberries to Garnish
How to make
Combine all ingredients in a highball glass filled with cubed ice.
Lightly stir.
Garnish with cucumber slices, mint sprig and cranberries.
Top tips for a perfect serve
Garnishes
Cucumber
Mint
Cranberries
Occasions
Refreshing Summer Drinks
Casual or Formal Happy Hours
The Cocktail Hour
Cocktail Parties & Scandalous Soirees
Hendrick's Gin Cranberry Fizz cocktail served
Double or quadruple the proportions for the perfect sharing serve.
Some questions
people often ask us
Why is a Cranberry Fizz the perfect festive cocktail?
Cranberries are the quintessential flavor of the Christmas feast.
What can you substitute for sparkling wine?
Champage, Prosecco, Cava, Pet Nat or anything in between.
How would you make this a Cranberry Fizz Mocktail?
If you replace the Hendrick's with an equal amount of Cranberry.
A brief history of
the Gin & Tonic
Gin can be traced back to the Middle Ages, with a spirit flavoured with Genever (the Dutch word for Juniper) referenced in a 13th Century Flemish manuscript. Like many spirits, gin was originally produced as a medicine to treat conditions such as dyspepsia and gout and was popularly drank by British soldiers fighting the Dutch in the 17th Century. It made its way to Britain in the early 18th Century, being produced as homebrew in many British homes.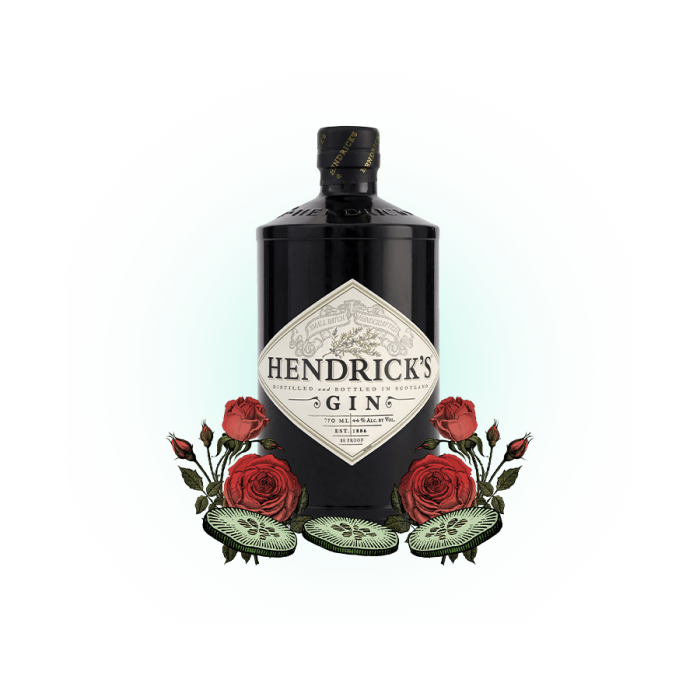 HENDRICK'S GIN
The original HENDRICK'S GIN. Deliciously infused with Rose and Cucumber.
HENDRICK'S GIN, with its distinctly elegant black bottle is the most beloved of gin gifts. An unusual gin created from eleven fine botanicals, this is a most distinguished Scottish gin gift. The curious, yet marvelous, infusions of rose & cucumber imbue our spirit with its uniquely balanced flavor resulting in an impeccably smooth and distinct gin.
FIND A STORE NEAR YOU
Learn more