Hendrick's Gin Foradora cocktail
FLORA DORA
As floral and as fizzy as the mythical carbonated gardens of Alusdusa, the Floradora is a gin cocktail that is not afraid of the seductive power of the raspberry. (Come to think of it, who is afraid of the seductive power of the raspberry?). Serving suggestion: follow with a love poem beneath a meteor shower. The bartender Jimmy O'Brien created the drink for a young actor from the cast of the Edwardian musical comedy 'Floradora'; she claimed that she had already tried every cocktail, and O'Brien responded by creating this miraculous cocktail just for her.
Ingredients
2 parts HENDRICK'S GIN
1 part Lime Juice
1/2 part Raspberry Syrup
Top with Ginger Beer
Raspberry to Garnish
How to make
Combine all ingredients in a highball glass filled with cubed ice and lightly churn.
Garnish with a skewered raspberry and serve.
Top tips for a perfect serve
Occasions
Feasts & Dinner Parties
Cocktail Parties & Scandalous Soirees
Moments of Exquisite Irrelevance
Garden Parties & Picnics
Summer Refreshments
Hendrick's Gin Foradora cocktail served with raspberry garnish
If you don't have raspberry syrup, simply add a handful of fresh raspberries and 1/3 part of sugar syrup
Some questions
people often ask us
Where does the name Floradora come from?
The Floradora is named after a hugely successful musical comedy that first debuted in London's West End in 1899. It made the transfer to Broadway a year later. One of the chorus girls asked a local bartender to make her a brand new drink one night after the show and the rest if history.
What can you substitute for raspberry syrup in this cocktail?
Fresh raspberries and sugar syrup.
What does a Floradora taste like?
It's got a nice zing from the ginger, a little bit of tartness from the lime and then sweetness from those raspberries so it ticks all the boxes.
A brief history of
the Flora Dora
The Floradora cocktail can be traced back to the early 1900s and was given its name after a successful Edwardian musical which opened in 1899. The musical famously included a chorus line of 'Floradora Girls' who danced across the stage and captivated audiences.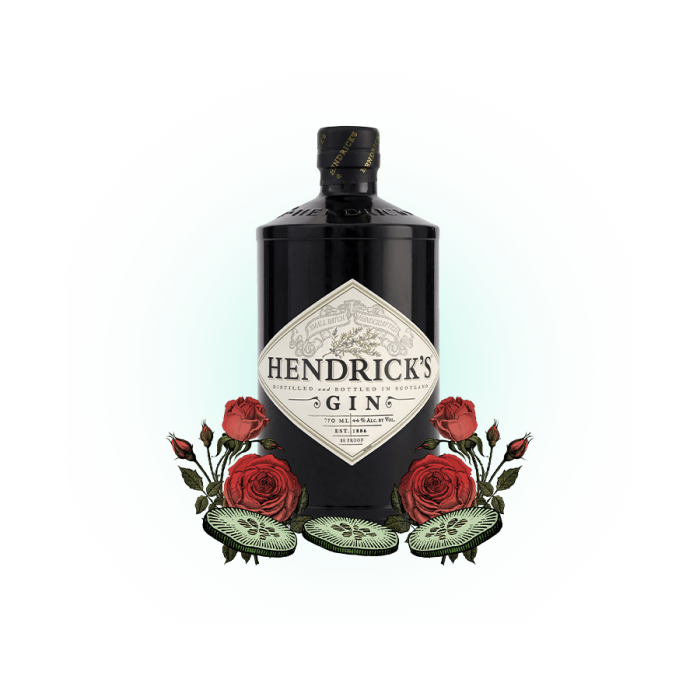 HENDRICK'S GIN
The original HENDRICK'S GIN. Deliciously infused with Rose and Cucumber.
HENDRICK'S GIN, with its distinctly elegant black bottle is the most beloved of gin gifts. An unusual gin created from eleven fine botanicals, this is a most distinguished Scottish gin gift. The curious, yet marvelous, infusions of rose & cucumber imbue our spirit with its uniquely balanced flavor resulting in an impeccably smooth and distinct gin.
FIND A STORE NEAR YOU
Learn more